Round Nylon Pillars / Standoffs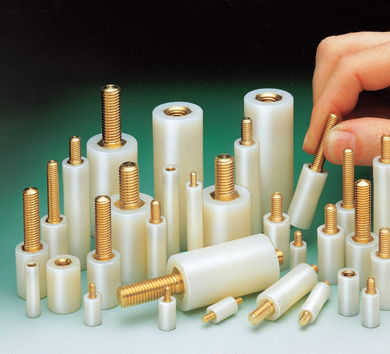 Click Images to Zoom
Technical Diagrams (click images to enlarge)



Key Facts
Material: Body – Nylon 66 (natural)
Inserts – Brass (self colour).
Operating temperature: -30ºC to +85ºC.
P.T.F.E. available for temperatures up to 250°C. Please call for prices.
Flammability ratings on application.
All dimensions in millimetres.
RoHS compliant.

Please note in some instances the minimum body length can only be achieved by decreasing the standard thread depth.
Pricing Guide
All prices £/100.
Minimum order 100 pieces.
For carriage information please see our Delivery section.
Plated inserts cost plus 10%.
Special features such as non-standard thread lengths, odd ends etc. cost plus 15% per feature.
Pillars with screwdriver slots, cross holes etc. available on request.
Custom Made Pillars
As well as keeping popular Nylon Pillar / Standoff sizes in stock for immediate delivery, we also provide, in-house manufacture of any custom length* at NO EXTRA COST. Our regular sizes increment in 5mm steps and also include exact metric equivalents to imperial sizes. The price for a custom length Pillar will be the same as that for the nearest longer standard size. For instance, that means a 22.6mm Pillar will cost you no more than a 25mm Pillar. Minimum order quantity remains at 100 units, as with our standard stock. Delivery for custom sizes is usually less than three days.
In addition, on-site manufacturing means we can rapidly and economically alter other attributes, such as body style, body diameter, thread type and thread length to your exact requirements. Our additional charge is just 15% for each customised attribute. As an example, you can specify a 37.5mm round Nylon Pillar featuring an M3 female insert at one end and a 20mm long M4 male thread at the other. The price would be the same as a 40mm Pillar plus 30% for the two special attributes. Delivery is normally less than one week.
* above the minimum body length