Hexagonal Nylon Pillars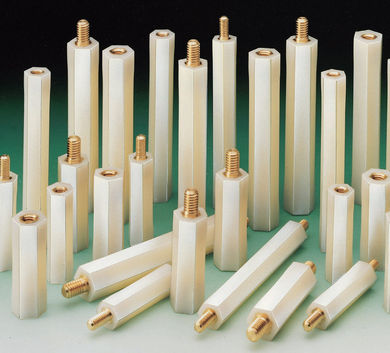 Click Images to Zoom
Technical Diagrams (click images to enlarge)



Key Facts
Material: Body – Nylon 66 (natural)
Inserts – Nylon Brass (self colour).
Operating temperature: -30ºC to +85ºC.
Flammability ratings on application.
All dimensions in millimetres.
RoHS compliant.

Please note in some instances the minimum body length can only be achieved by decreasing the standard thread depth.
Pricing Guide
All prices £/100.
Minimum order 100 pieces.
For carriage information see our Delivery section.
Plated inserts cost plus 10%.
Special features such as non-standard thread lengths, odd ends etc. are available.
Custom Made Pillars
In addition to our standard range of Hexagonal Nylon Pillars we offer a process which allows the body length, type and length of thread to be adjusted quickly and economically so that you may call for your exact requirements. However the best possible delivery is likely to be for the metric lengths shown above.